I have started a new line of products on Zazzle that I call Good Day Bikes. Below is a bumper sticker with the line: Bike your way to a good day. I originally created this mandala for a charity event for a local bicycle coop. Now I want to make it available to a wider audience.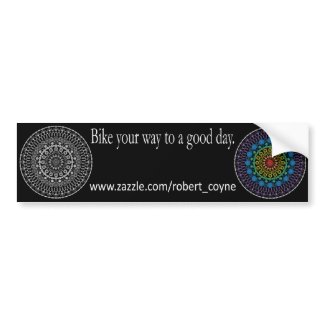 Good Day Bike Bumper Sticker
by
robert_coyne
Browse other
Manalas Bumper Stickers
I have taken the one mandala and turned it into a series of products including bumper stickers, t shirts, posters and prints, greeting cards, small round stickers of two sizes, and postage stamps. All are available as a separate category on my Zazzle gallery.
*******
Bicycles are a part of the solution to two of our biggest problems: energy shortage and obesity. I want to promote the health and financial benefits of bicycling. My mountain bike is my main form of exercise. It has helped me lose weight, improve my health and save gas; not to mention that it is fun.